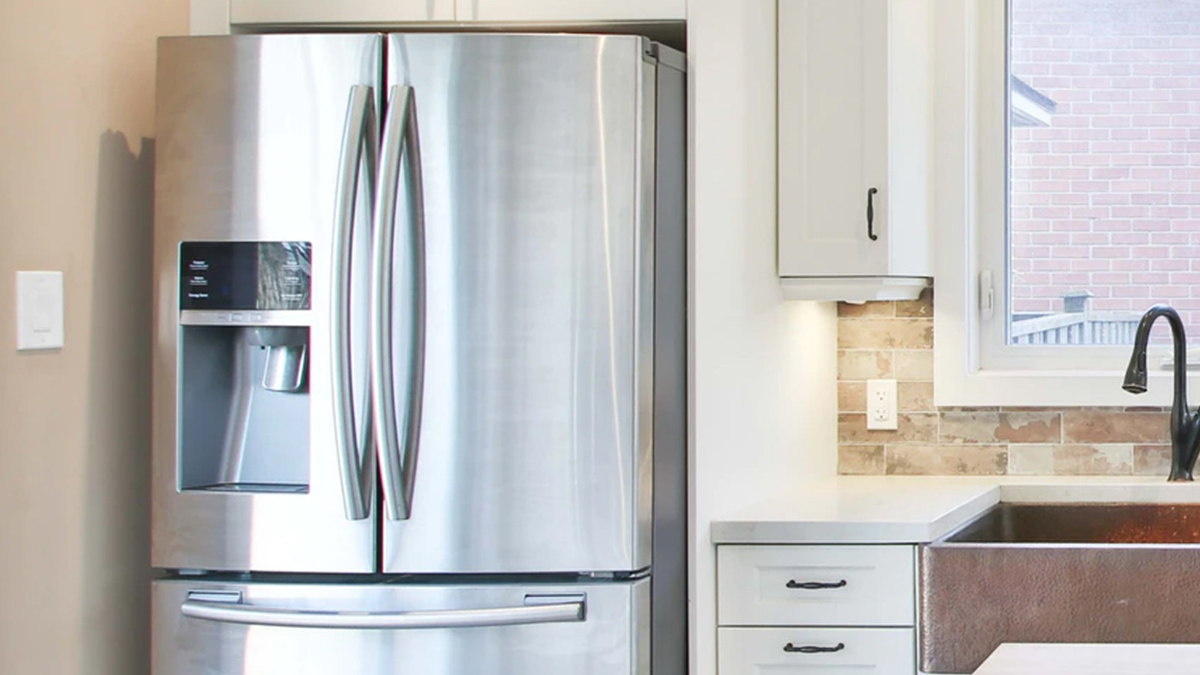 Refrigerator Leaking Water
Refrigerator leaking water on the floor? That's a problem.
When you go to the refrigerator you're probably going there for something to eat or drink. You're thinking about satisfying that hunger, thirst, or craving. The last thing you want is to realize you have a problem.
There are several ways your refrigerator could be giving you a mess to clean up. Hopefully, you can easily identify the problem and stop it. Like maybe somebody just dropped ice cubes and didn't clean up after themselves – if you're lucky. But there are things that aren't so lucky that could be the source of your problems. Let's look at them.
Water Pipes
One of the best features of a modern refrigerator is the ice maker, and it's partner, the cold water dispenser, is just as beloved. But these two features require a water source, and that means pipes. Pipes can fail. When they do, you usually have a big mess on your hands. Water supply tubing is typically 1/4″ inches in diameter. If that breaks or comes disconnected from the refrigerator, it can pump-out 10 or more gallons of water a minute. If you don't discover it for a few hours, because you're sleeping, away from the home, or your home theater volume is turn up to binge-watch the latest 'must-see', you could have thousands of gallons of water flooding your home. That's an emergency that will cause serious water damage to your home or business.
When a pipe bursts the obvious thing is to turn off the water source before any additional damage happens. But even when it's only leaking a little bit with small drops, turning off the water is the best course of action. Small, persistent refrigerator leaks, over time, will cause a significant pooling of water, and water damage is your likely outcome. Then, of course, there is the risk of mold growth.
Cracks, Fasteners, and Gaskets – on the Outside
When you're looking at water pipes that are leaking you need to determine if the problem is a crack or hole in the piping itself, or if it is the connection where the pipe fastens to either the refrigerator or the water source. If the problem is the pipe itself, you're going to need to replace it.
Sometimes the pipes were just not installed properly and they aren't fastened well. If you're lucky it's a simple fix to tighten the connection or replace an old gasket, but if not, you're going to need to shut off water to your refrigerator right away and leave it off until you can fix it.
When you need to fix a leak like this, it's a good time to determine if the piping materials used are right for your home, be it copper, plastic, or braided stainless steel.
Cracks, Fasteners, and Gaskets – on the Inside
To give you cold water on demand your refrigerator has a storage tank that is refrigerated. And the tubes inside the fridge are also kept cold by virtue of being inside your refrigeration unit. Unfortunately, if settings are too cold, the water here can freeze. Frozen water storage and tubes can prevent you from getting ice made or dispensing cold water. But even worse, if water lines freeze and the ice expands too much, it can crack the plastic tubing. While frozen – that's not a problem. But when the ice melts and water starts flowing properly again, you're going to have a leak and you introduce additional problems…water damage problems.
To avoid this, make sure that your freezer temperature settings are set correctly. If you have an empty freezer and the settings are at the coldest, the cold can start affecting the tubing and storage tanks. Likewise for the refrigerator side.
Atmospheric Water
Of course, water in the air is called humidity. There are some parts of the country where humidity is rarely a problem, but here in Florida, it's a part of life. It doesn't matter if you're near the water like in Tampa Bay, the Space Coast, or the Panhandle, or if you're inland a bit like in Orlando or Gainsville. Humidity is as much a part of Florida life as alligators, perhaps more so.
When the warm, humid air enters your refrigerator and then cools, you get condensation that forms on the walls, shelves, and contents of your refrigerator. In your freezer, it crystallizes into frost. Frostbite isn't as bad as an alligator bite, but it will ruin your food, and dang, I hate to ruin food.
As long as condensation and frost stay inside your refrigerator, they can't damage your kitchen. They can't compromise the wood floors, deteriorate the grout in your tile, or warp your linoleum. That's all good, but mold can still grow in your refrigerator. Some molds can grow even as cold as 32°. Mold is also known to grow in the gaskets as well.
This post is supposed to be about water damage to the kitchen right? Frost in your freezer isn't a refrigerator leak, so how does this apply? Well, we're getting to that right now. Frost that melts is water.
Defrost and Stay Defrosted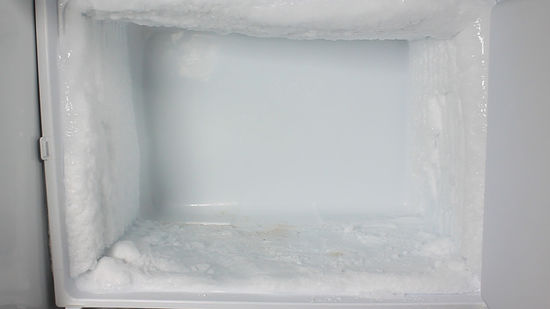 Frost in your freezer is problematic for your food. It takes up room, causes freezer burn, and is inefficient. When you defrost your fridge, make sure you clean up all the melting frost and all the water that results. You want to keep it defrosted too. Aside from the obvious reasons, if your power fails or your refrigerator fails, look out for leaks. It could defrost on its own and with a lot of melted water, the seals on the doors will not hold the water and you could come home after a bit of time away to have a pool of water in your kitchen. If it happens as you leave the house for a couple of days, mold could have already started to grow and your floors and cabinets could already be starting to swell from water.
Many refrigerators are designed to be frost-free. They have a process that extracts moisture from the air in the freezer. That moisture has to go somewhere. It drips down to a pan underneath your refrigerator. The purpose of the pan is to keep you from getting water damage to your floor, but you can still get mold. You'll want to check that pan and make sure it doesn't keep a constant pool of water. That pool can grow mold and that can spread throughout your house.
There it is again; mold. It keeps coming up when talking about water. That's because mold grows with moisture and as the Environmental Protection Agency (EPA) points out, it can affect your health.
Preventing Frost
Since it is moisture in the air that causes the frost, you want to expose the freezer to the warm air of your kitchen as little as possible. This means not leaving the door open for any more time than is necessary to load or retrieve your freezer items. It means deciding what you want from the freezer before going in there. Hopefully, you can remember what it holds. If not, decide quickly. But this also means reducing the frequency of accessing the freezer. Humid Florida air is the biggest contributor to frost.
Before you freeze your leftovers, let them cool as much as possible. Introducing the warm items and items still steaming will bring more humidity than normal. That will cause frosting, and not the tasty good kind that you put on cake.
Clean and check your seals. Look at all of the gaskets around the door. Are they firm? Are they clean? Wash them if they are not. With the door closed, put your hand around the door near the seal, feel for any cold leaks, check around the whole refrigerator. If you feel any cold air you don't have a good seal and the humidity will get into your freezer.
Another thing that affects the efficiency of your freezer and the amount of humid air in it is how full it is. Make sure that you aren't maintaining an empty or near-empty freezer. But also, having it too full can be a problem as well. Too full isn't so much an issue of causing frost, but to have good operation and properly keep your items frozen in the freezer, there needs to be circulation of air.
Lastly, keeping your freezer as close to 0°F is ideal. Higher than that and you increase the instance of frost, and lower can cause frost, but it is also the temperature recommended by the USDA for food safety.
Final Word
We are fortunate to live in times of refrigerated food. It's a minor thing to pay attention to water leaks from your refrigerator and clean them up. Most of the time when you find water around your refrigerator it's a minor thing to clean up. A dropped ice cube, a kid who overfills their cup because they aren't paying attention to the water dispenser, or something unrelated to the fridge at all. But when your water supply breaks you could be in for major flooding of your kitchen. That's a disaster that can destroy flooring, cabinetry, and furniture.
We hope you never need our services. But if the unexpected happens, Relax and Trust Construemax.