Property Restoration is what Construemax is all about. Property restoration includes cleaning up immediately after a disaster, but it also means restoring things to the way they were before it all happened.
When you suffer a loss from a small fire or broken pipe you have an emergency. You take immediate action to stop secondary damage from smoke or soaked property. Our Emergency Services division will be there 24/7 to answer your call and stop the immediate threat from smoke, soot, and water. There is still much to do.
They will clean up the damage and remove chard items, the things destroyed by water, or in the case of mold, the contaminated surfaces. There is usually some amount of debris removal involved after the immediacy of the disaster has passed and you are left with a dry, clean, smoke-free building ready to be restored. This is the mitigation side of Construemax.
The Damage Has Been Prevented From Getting Worse. Now What?
Now the Construemax Reconstruction team can help. It's our job to work with you to return your home or business to the condition of before your fateful day. We work for you.
Our Project Management team will meet with you and evaluate what is to be done to complete restoration to pre-emergency condition.
We will work up a full scope of work. You will select materials to be used in repairs such as paint colors, flooring, shingles, and so forth.
We Take Care Of Building Permits And Local Code
Construemax is very strict about following federal, state, and local laws in our reconstruction work. Some things can be done in your property without a permit, and many more things require one. The jurisdiction where your property is will determine what those things are. We stay abreast of these requirements and follow them to the letter.
There might be a temptation to try to slide something by the building department, but we won't do that. Building code is written with best practices in mind and we seek to honor those requirements. It is to your benefit as well. Following code strictly can prevent huge problems in the future when trying to sell your property or get a permit at some later time.
Construemax Is A Full General Contractor
Construemax is a General Contractor. This means we have the experience and training required by the State of Florida to build whatever you need built. We know construction from foundations to roofs. From windows and doors to carpets and paint. We know shingles, metal, and tile roofs. We know brick, stucco, and vinyl siding. Whatever you need restored we can restore. As a single-source provider of property restoration services, we understand how you got here, and where you need to go.
Your home or business should be comfortable on the inside and appealing on the outside. We will repair whatever needs repairing inside or out, no matter the building materials required or aesthetic involved.
We have relationships with expert subcontractors in all the building trades and only hire licensed plumbers, electricians, roofers, HVAC, and all trades that require licenses.
We Work With Insurance
When disaster strikes you'll suddenly be grateful for having paid all of your insurance premiums. That's a relief. But even then, most people have never filed a claim on their homeowners or business property insurance. When this happens, you will need to work very closely with your adjuster. They will need a lot of information and will want to stay informed about the progress of your restoration.
We know how to work with adjusters. We know how to provide documentation to them so they understand your needs. We can speak their language. While we don't make decisions about how your insurance carrier will treat your claim, we document everything in such a way to speed up the process and eliminate questions.
We Guide You Through The Property Restoration
General contractors are hired for property restoration because there are so many moving parts involved with restoring your property after a disaster. We are equipped to handle each of them and keep you on schedule. Things we take care of for you include: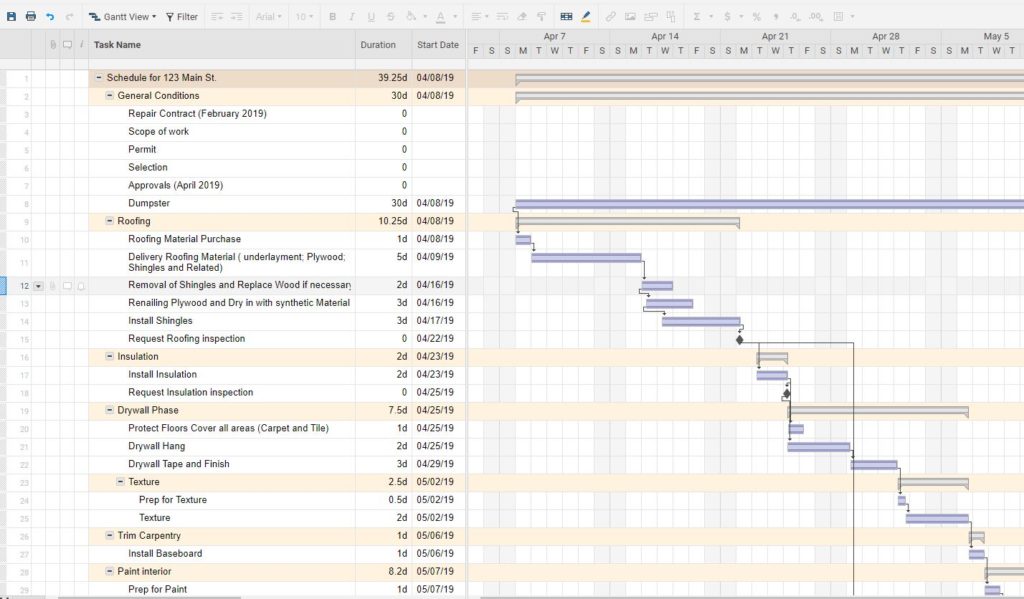 Create the Scope of Work
Create total project schedule
Creating an estimate you can submit to the insurance company
When appropriate, communicate with the adjuster about the scope of work and progress
Hire architects or engineers when needed
Acquire permits
Guide you through material selection
Purchase materials
Make special orders that may be needed
Hire, schedule, and oversee subcontractors
Schedule and attend to lender inspections
Schedule and follow up with municipal inspections
In addition to all of these things, invariably, unforeseen problems arise. This could range from a problem at your property like a code upgrade issue or additional damage being discovered, to things like hard to find materials or labor shortages. As a general contractor, we're equipped to handle not only the expected but the unexpected as well. Property Restoration has many twists and turns and we can say "we've seen it all". And as soon as we do, we discover a problem nobody has ever seen before. You want an experienced general contractor like Construemax on your side when that something new appears.
Finishing Touches
When you first meet one of our staff it will likely be in an emergency situation. When you finish with us it should be after we have completed the finishing touches on restoring your home to pre-emergency condition or better.
We hope you will never need our services, but if the unexpected does happen, Relax. Trust Construemax.