Construemax Does Decontamination for COVID-19
Construemax Does Decontamination
for COVID-19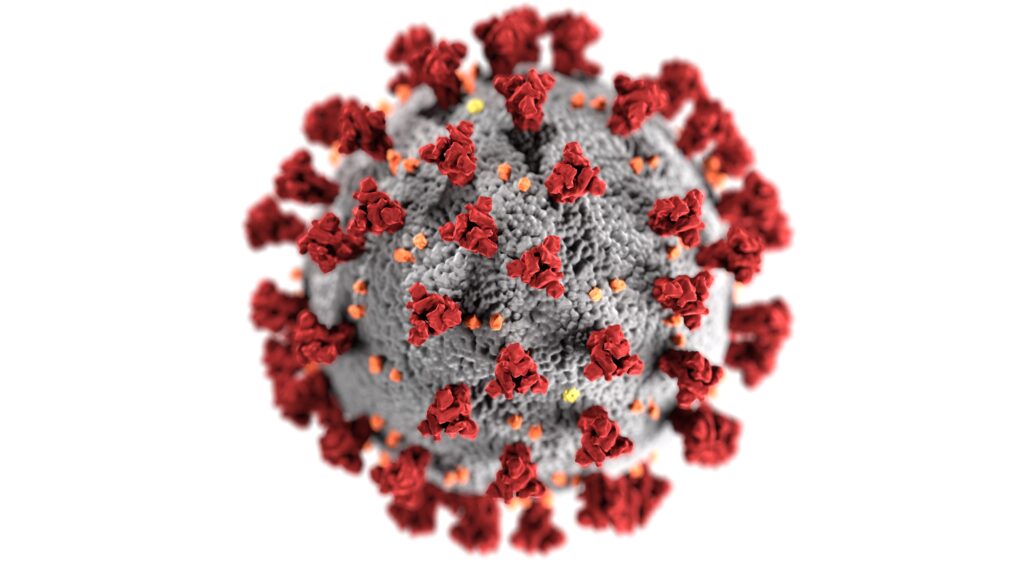 Coronovirus SARS-CoV-2, the virus responsible for COVID-19, spreads fast and can live on hard surfaces for many days. When you have confirmed or even suspected exposure of this virus in your property you want to decontaminate that property. Construemax does COVID-19 decontamination.
When Construemax does decontamination of your business or home we take every precaution to protect our workers and yours while we treat your property. These precautions are intended to also prevent cross-contamination from one part of your property to another or into society at large. Our decontamination team will assess your circumstances and move forward accordingly.
Guidance From the Experts
There are different anti-viral solutions that can be used and the most important thing for us is that we follow the instructions provided by the manufacturer of the solution
In addition to following the instructions on the label of the solution we use, we are also getting guidance from:
Industrial Hygienists
Centers for Disease Control (CDC)
Occupational Safety and Health Administration (OSHA)
Food and Drug Administration (FDA)
Environmental Protection Agency (EPA)
Restoration Industry Association (RIA)
Institute of Inspection Cleaning and Restoration Certification (IICRC)
To give you an idea of what a decontamination process might look like, here is an example of what we have done. We decontaminated a business with 24,000 square feet using an appropriate protocol. If your situation was similar, what follows is what we might do.
Staging Area For Disinfection Decontamination
We set up a staging system to ensure that we not only decontaminate your place but also not transfer any contaminated material out. We are part of the strategy to limit the spread of COVID-19.
The three zones that are set up are:
A clean zone
A transition zone
Decontamination zone
The workers put on their Personal Protective Equipment (PPE) and tested it to verify that the worker has the proper range of motion without compromising the efficacy of the protective gear. This is done in the clean zone. This is beneficial to the worker, of course, but you need the workers to be able to perform the decontamination correctly and to not take any contamination out with them. Again, the goal is to prevent the spread of the virus.
Two-Step Process
While in the operating area, the decontamination zone, the workers performed a two-step process. The first step is for the workers to use an anti-viral solution to physically wipe down commonly touched surfaces. There are the obvious places that fall into this category such as:
Light switches
Door knobs and handles
The back of chairs
armrests
Top of desks and under the desks
And others…
This wipe down is done with disposable cleaning supplies. It is intended to remove as much bacterial and viral microbial material as possible. The next step is the disinfection process. For this step, we used a device that generates very fine particles of the disinfectant solution. This fog or mist facilitates the widespread application of the solution to include areas that are not physically wiped down. It is also a secondary application to the heavily touched surfaces. It leaves all the surfaces with the anti-viral solution for about 10 minutes until it dries. In some areas where there is more humidity, it takes longer for the solution to dry, which is ok.
Dwell Time is Key to Success
The surface area needs to stay wet for a period of time. This is called "dwell time". How long the disinfection solution stays wet is determined by the manufacturer of the product. This is important because every decontamination solution, to be effective, has a certain amount of time required to dwell as a wet product before drying to be effective.
This decontamination solution film, when fogged into the area properly, will settle on any exposed papers or electronics. We would never direct the fogger at the electronics or papers because excessive moisture can cause trouble. But executed properly the surfaces are treated without causing damage.
Controlling the Air
It has not been established as to whether SARS-CoV-2 is an airborne virus or not. There is much speculation about this but the experts are still learning about this specific strain of Coronavirus. According to the CDC "The virus is thought to spread mainly between people who are in close contact with one another (within about 6 feet) through respiratory droplets produced when an infected person coughs or sneezes." As such, part of our decontamination protocols involves controlling the air where possible and appropriate. (Appropriate because every situation is different and is evaluated for each special circumstance.)
Some techniques will include the use of air scrubbers and negative air pressure. Negative air pressure is used to keep anything in the air in the decontamination zone from moving into the transition zone, specifically the microscopic and invisible virus.
Air scrubbers are a common piece of equipment and they are often required by OSHA when dealing with decontamination situations including sewage, mold, and the use of various cleaning and decontamination solutions. When appropriate, we use air scrubbers whether required by OSHA or not. The most effective decontamination of COVID-19 is our goal.
Clearing Out and Removing Contaminated Materials
There are specific procedures for disposing of cleaning supplies that have been used for the wiping down of surfaces. They are placed in plastic bags and secured to contain all contaminated materials. Likewise for much of the equipment used during the decontamination process. These will be cleaned and decontaminated before being used again. Each time they are deployed to a decontamination, like to your property, they arrive completely clean and ready for use.
The transition zone is where the workers will remove their outer PPE and place them in plastic bags too. The rest of the PPE will be removed in the clean area.
Decontamination and Disinfection is NOT Housekeeping
This decontamination process is NOT a housekeeping or janitorial service. This means that if you started with full trash cans, a full refrigerator with half-eaten lunches, or handprints on windows, those will remain. If you desire Construemax to do that cleaning so as to not expose workers or janitorial staff, it can be done, but it must be understood that the cost of that cleaning will be in line with the decontamination service. That means that it will not be as cost-effective as hiring a janitorial service. We use full PPE when doing our work. Janitors do not.
The cleaner the facility is at the start of the process the more effective the decontamination will be.
We want to be part of the solution to contain the spread of this disease and in the process, help you provide peace of mind to your employees when they come back to the office to work.
Show that you care about those people who work for you and Relax, Trust Construemax.