When kitchen cabinetry, walls, tiling and floors become compromised by water, the damage is often unseen, occurring without the homeowners' knowledge.
Eventually, the damage in the kitchen mounts, and the homeowner is made aware via leaking roofs, flooding dishwashers, backed up drains, visible mold damage, "soft" cabinetry, or loose tiling.
Cabinetry becomes soft to the touch, or bowed, because it's often made of compressed wood, or particle board, which becomes irreversibly damaged once it absorbs water.
Sources of Kitchen Water Damage
These are the most common causes of water damage in the kitchen:
Dishwashers in need or repair or replacement
Leaking refrigerators
Damaged automatic ice makers
Damaged caulking around the kitchen sink
Broken or leaking water lines feeding the kitchen appliances
Roof damage above the kitchen, leaking water into cabinetry.
When kitchen walls and cabinets incur even a small amount of water damage, they become highly susceptible for mold damage, which can cause health problems, and require a full kitchen remodel.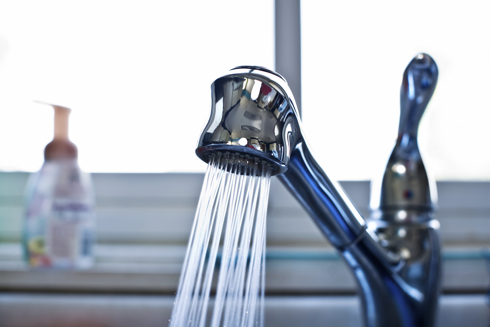 Restoring a Water Damaged Kitchen
Homeowners with water-damaged kitchens are often entitled to new kitchens by filing a water damage claim with their insurance companies.
The first step is an inspection of your kitchen, and an outline of all necessary repairs.
Contact us for an evaluation, or call us at (800) 554-7850 if you're experiencing an emergency water leak.