Often, slow water leaks in the bathroom are even more damaging than sudden broken pipes, as minor water leaks can cause more severe damage over an extended period of time.
The first step to controlling water damage in a bathroom is to find the source of the water intrusion. In the event of sudden burst pipes and gushing water, the water supply to the home will need to be shut off. Home water controls are usually located just outside the home.
Sources of water damage to the bathroom include:
Toilets
Sinks
Leaking Bathtubs
Faulty Plumbing
Exterior Roof Damage
Many times, bathroom water damage takes the form of "softened" walls, loose tiles, a humidity level above 50%, or visible mold damage. In two-story homes, a flood in the upstairs bathroom can spread downstairs and throughout the home.
Restoring a Water Damaged Bathroom
A full inspection of your bathrooms walls, tiles, and plumbing will be required to uncover all seen and unseen water damage in your bathroom.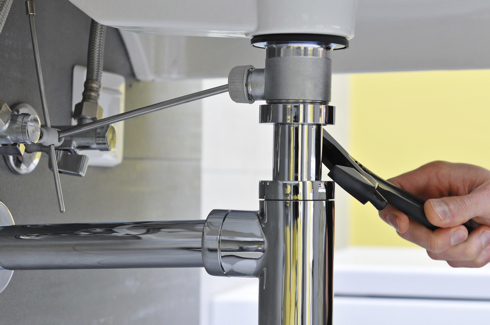 24/7 Emergency Bathroom Plumber Service
Our Emergency plumber service includes stopping major water leaks and faulty plumbing. We'll bring a qualified plumber to the scene anytime day or night, 24/7 in Orlando , and throughout Central Florida.
Call us at (800) 554-7850 if you're experiencing an emergency water leak in your bathroom or home.
Construemax accepts all major homeowners insurance.