Fire Damage is accompanied by soot, smoke and usually water damage.
Emergency restoration services should begin as soon as possible after a fire - ideally, within the first day or two. Doing so prevents the soot and smoke damage from getting worse, as they are corrosive chemical reactions that will actually spread when untreated. Also, a quick response prevents the water used during fire suppression from further damaging the home by creating new mold damage, a common scenario in Florida's humid environment.
Fire Restoration - First Steps
Day one of fire restoration involves an inspection of the entire home, inside and out, including its foundation. All structural damage is identified. Also, the initial home inspection will identify:
wet smoke residue
dry smoke residue
fuel / oil soot
fingerprint powder
fire extinguisher residue
any additional water damage
Unaffected areas are identified and protected so that the restoration process is as cost effective as possible. All home contents are catalogued and removed to a secure, state-of-the-art location for dehumidification and ozone treatment for smoke odor elimination.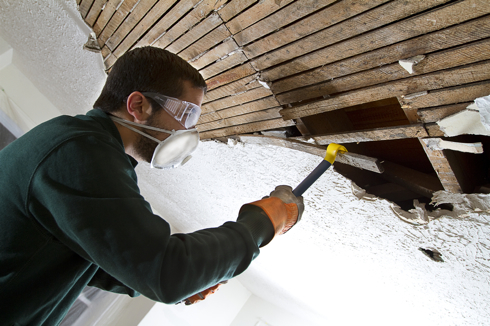 Restoring the home involves reconstruction that precisely matches the interior and exterior of the undamaged sections of the home. Even so, restoring and rebuilding a fire-damage home requires fire damage and mold damage certified professionals, not just standard general contractors.
Our team has ten years' experience handling thousands of fire-damaged homes in Orlando and throughout Central Florida.
If you've incurred fire damage in your home, contact us for an immediate response.